Roll over image to zoom in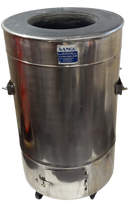 Description
Stainless steel Small portable drum tandoor oven for home or catering. Runs on charcoal. Can also run on Gas. This drum tandoor is ideal for catering services, wedding planner and event management.
Easily portable.
Can you be used in your backyard to bring Indian style barbecue to your backyard.
Made from premium quality stainless and will last a long time. Has wheels at the bottom for portability.
Measurement -
Height: 28 inch
Diameter: 22 inch
Mouth Opening: 13"
Features:
Body: Stainless steel body outside, baked clay pot inside.
Wheels at the bottom and handles on the side for easy portability.
Has a lid to close the top.
Uses charcoal or can also run on natural gas.
2 Skewers & 1 gaddi included.
Weight: 250 lbs approximately.
Optional:
- Includes Gas Plate
- 60,000 btu Gas Burner \w fittings (on / off switch, 12" diameter burner)
Can operate using charcoal and natural gas once the Gas Burner is installed by a certified plumber as per state/local codes.
Disclaimer:

THIS IS A NON-NSF TANDOOR and is NOT ETL/CSA certified.

Gas tandoor equipment used at restaurants in the USA must be ETL/CSA certified for Gas safety. Please make sure to check your county / state local code before purchasing / installing any type of Gas Equipment.

Warning:
Please take precaution when using any type of tandoor. Use it at your own risk.
Payment & Security
Your payment information is processed securely. We do not store credit card details nor have access to your credit card information.