Roll over image to zoom in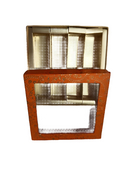 Description
Experience the rich flavors of Indian sweets with our Orange-Colored Sweet Boxes. These sweet boxes come with 4 compartments, allowing you to sample a variety of sweet treats at once. The boxes are made of high-quality materials and are designed to keep your sweets fresh for longer. Measuring at 7.5 x 7.5 x 1.75 inches (outer) and 7.25 x 7.25 x 1.50 inches (inner), these sweet boxes have ample space to hold up to 1/2 kg of sweets. The orange-colored exterior gives them an elegant and traditional look that complements any occasion, whether it's a family gathering or a special celebration. Each compartment is designed to hold a different type of sweet, making them perfect for sharing with friends and family.
Order now and enjoy the sweet taste of India in these convenient and stylish sweet boxes. This product description highlights the key features and benefits of the sweet boxes, such as their 4 compartments, high-quality materials, ability to keep sweets fresh, and elegant orange color. By emphasizing the convenience and versatility of the sweet boxes, this product description can appeal to customers looking for a practical yet elegant way to store and serve Indian sweets. The description also emphasizes the product's traditional and cultural significance, which can attract customers interested in experiencing authentic Indian sweets. By using descriptive language and appealing to potential customers' interests and needs, this product description can help increase the product's visibility and sales on e-commerce websites or online marketplaces.
Payment & Security
Your payment information is processed securely. We do not store credit card details nor have access to your credit card information.