Roll over image to zoom in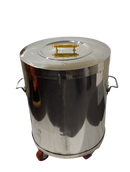 Description
Stainless steel Small portable tandoor oven for home or restaurants. Runs on charcoal.

Bring the Indian style barbeque to your backyard with this easy to use tandoori oven.

If you are having a party at home or you run a small authentic Indian cuisine restaurant - this tandoor will do the job.

Cook tandoori chicken tikka masala, kebab, bread & naan like a chef with our Baby Tandoor which is designed to make Tandoori items easily in the convenience of your home.

Made from premium quality stainless and will last a long time. Has wheels at the bottom for portability.

Measurement

Height with wheels: 24 inch

Diameter: 18 inch

Mouth Opening: 12"

Features:

Body: Stainless steel body outside, baked clay pot inside.

Wheels at the bottom and handles on the side for easy portability.

Has a lid to close the top.

Uses charcoal or can also run on natural gas.

2 Skewers & 1 gaddi included.

Weight: 350 lbs approximately.

Optional:

Includes Gas Plate and Gas Burner
Payment & Security
Your payment information is processed securely. We do not store credit card details nor have access to your credit card information.